As summer is unfolding I get more and more questions on fat loss. To help me answer them it is my pleasure to interview Craig Ballantyne today. Craig's known for developing short and effective workouts into a program called Turbulence Training—and he says they burn belly fat especially well.
1. Hi Craig. Thanks for joining us. Introduce yourself: who are you, and what do you do?
I'm a Men's Health magazine fitness advisor, creator of Turbulence Training, and a Certified Strength and Conditioning Specialist. I've been helping men and women lose fat in short workouts, using interval training and resistance training – exactly the opposite approach of what most generic trainers recommend.
2. You recommend a mix of interval training and full body workouts for fat loss and overall fitness. What makes this type of training superior to others?
Aside from it being research proven to burn more belly fat, and to help people gain muscle and lose fat at the same time, a program of resistance training and interval training helps busy men and women get in and out of the gym faster than ever.
In fact, you don't even have to train at a gym. If you have dumbells and a bench, you can do the workouts in the comfort of your own home. Plus, you're done in only 45 minutes, 3 times per week.
3. Can you give us an example of a workout based on your approach?
The Turbulence Training workouts always start with a general bodyweight warm-up, which is much better than wasting your time on the treadmill to start.
Then we move to non-competing strength training supersets for about 20 minutes. This helps build muscle and burn fat at the same time.
Finally, we finish off with 15-20 minutes of interval training, and then stretch as needed at the end of the workout.
Your readers can get a sample of one of my most popular Turbulence Training workouts at www.TurbulenceTraining.com
4. This blog is about helping people get six pack abs. In one of your YouTube videos [edit: video below], you quickly mention that interval training is especially good at reducing belly fat. Is interval training really better than continuous cardio in that regard?
A study I first came across in the fall of 2006 compared 20 minutes of interval training against 40 minutes of slow cardio training. This was a 15 week study, and the subjects were all women.
At the end of the study, only the interval training group lost belly fat. In fact, the slow cardio group reported no weight loss at all.
Surprising, but true. The authors concluded that interval training can actually spot reduce belly fat. Just another reason intervals are superior for busy men and women.
5. Would you advise people who want six pack abs to do more interval training than others?
No matter what the goal, I recommend 4 interval workouts per week maximum. Interval training is efficient, and you can get a lot of results from not a lot of work. I don't want people to do too much interval training, because that could lead to overuse injuries, which is one of the biggest problems with slow boring cardio.
[edit: in my experience, four interval workouts a week is a lot. The maximum I would recommend is two intense interval workouts per week.]
6. Thanks for your insights Craig. Any closing comments?
I know that your readers are skeptical, but I also know that they will be pleasantly surprised by the results they can get in a short amount of time.
And they can give one of my best workouts a try, for free, simply by visiting TurbulenceTraining.com.
I challenge them to give Turbulence Training a shot… and free up time in their lives while getting more fat burning results.
Browsing Craig's videos on YouTube I stumbled upon this one, where Craig demonstrate his favorite ab exercises:
I endorse Craig's approach to fat loss and conditioning fully. As we've seen in The Big Picture of Getting Six Pack Abs, lifting weights is an important component of any fat loss program, and Craig's workouts are designed especially for fat loss. To read more, check out Craig's Turbulence Training.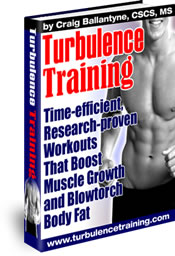 Related posts:
Free 1-hour interview with Ben Pakulski My buddy Nick Nilsson recorded this 1-hour phone interview with Ben Pakulski last week: http://clicks.aweber.com/y/ct/?l=9LaY.&m=ImXZUmiIjCA2a5&b=kv4qz1OPGIMAANFdyg_Kaw In it, Ben gives you pro tips for building muscle mass, even if you don't...
Funny six pack poses + interview with Pak-Man Hi You, I've just watched Vince's latest Live Large show: http://www.livelargetv.com/season1-episode19.php There are 2 parts I'd recommend watching: 1. Funny six pack poses (8:55 'til 13:57) Starts good and...
Letter From Your Belly Fat How's it goin'! This is a letter from your ol' pal, Belly Fat. We had a great run this summer, didn't we? Lots of good times, great food, and plain...